Victorian energy news: bills to be easier to understand and compare from July 1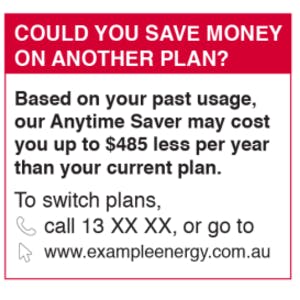 In addition to automatically lower energy prices for customers on standing offers, new regulations in Victoria are set to make electricity bills easier for customers to read and understand from 1 July 2019.
Here's what you need to know about changes to the Victorian Energy Retail Code and how they will affect your energy bill if you live or have a business premised in the state.
'Best available plan' bill notifications
From July 1 retailers will be required to prominently display their 'best offer' (pictured example from ESC website) on customer's:
Electricity bills every three months, and;
Gas bills every four months.
In addition, the notice must include advice and a call to action to switch to the listed offer.
The retailer's best offer will be personalised to each individual bill, taking into account the customer's existing usage profile from their actual meter data, in order to calculate an accurate savings figure.
Customers to be given five workings days notice of changes that will affect their bills
A formal 'bill change notice' must be sent to customers ahead of new price changes, as well as changes to benefits such as discounts associated with their contracts, so that they will have time to search for an alternative plan before those changes take place.
An entitlement to 'clear advice' from retailers about their offers
A new clear advice entitlement will require retailers to be upfront with customers about terms within the contract that could lead to them to be paying more than expected. For example, the situations where conditional discounts such as pay on time incentives may lead customers to be charged more must be adequately explained and expressed as a dollar impact.
This change ensures customers are not misled by large headline savings and discounts which may not be as beneficial as first appear.
The clear advice entitlement will also require retailers to tell customers about other deals that might suit them.
All tariff and pricing information to be expressed as GST-inclusive
Related to the clear advice entitlement is a new requirement that will standardise how rates are listed on bills across different retailers. All other notices which state rates, as well as marketing material must also only list GST inclusive pricing and figures.
Related articles: other changes from 1 July 2019
Free expert energy advice
Small business and household energy customers in Victoria, New South Wales, South East Queensland, South Australia and The ACT are able to access free advice and help to secure a more competitive energy plan from Make it Cheaper. Get a call back from a member of our team today.